Body Language of the Young Royal Couple, William and Kate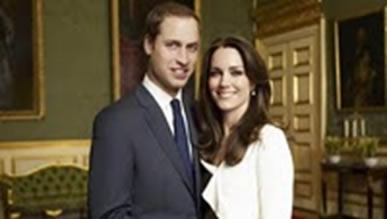 I was asked to read the Young Royal Couple, William and Kate, for several Canadian Publications. As the wedding approaches, you see the "look of love". They look at each other often and there is lots of mutual gazing but not for approval as Diane often did when she was first engaged to Charles but with respect and affection.
The "look of confidence" as Kate watches him closely when he is talking, she stands back slightly to show her place, but she doesn't bow down her head in submission or lack of confidence as Diana would do in Charles' presence. Kate keeps her head and chin on what I call the mid-line for the throat window, showing her confidence and ease in the high stress media moments.
They are "in sync." You often see William and Kate in photos taking on mirrored body language poses of each other. That frequent matching and mirroring shows they are in sync. In a recent interview they did "tit for tat" matching. This is another kind of isopraixism in synchronous relationships. It's a dance of tit for tat movement. For example, one would move their upper body forward while the other would move an arm forward, one would move their head up and down, and the other would move an arm up and down. Their body language shows synchronicity.
A "love story" - If you watch and listen as William tells the story of their proposal, you will notice that he is truly happy. His smile is large and his voice is animated and playful. He enjoys telling the story of the proposal. The words flow out smoothly and enthusiastically. When I am with couples, I often ask about their first date, when they fell in love and or their proposal. You can tell so much about a couple by how they tell and or listen and chime in as they tell their "love stories." Kate didn't chime in, which is appropriate to her role, but she certainly beamed and he wasn't tired of the tale! When Kate speaks, her voice is happy and she too has a nice smooth flow in her speaking which shows ease and a true positive feeling.
Royal couple to wed April 29 at Westminster Abbey
Patrick Jephson, longtime private secretary to the late Princess Diana, say the austerity argument "doesn't cut it." "This is a future king and a future queen, this is the most famous young royal couple in the world, and it will indubitably be compared to his mother's wedding, so for all these reasons, the palace won't want to be seen as downgrading it," Jephson said. William and Kate are making moves to put their own stamp on their big day. The couple, who Lowther-Pinkerton described as being "over the moon," is taking an active role in planning all the details — including the guest list. "I've never seen two happier people," he said.